A dental crown is a prosthetic appliance that is used in many dental restorations. It is used to treat issues such as cracked, chipped, misshapen, worn out, or weak teeth.
Candidacy and pre-fabrication
The procedure for getting a dental crown involves a thorough screening process. We would consider certain factors, such as external damage, presence of cavities, worn-out biting surfaces, gap available for placing the restoration, the strength of the supporting tooth structure, etc. Based on the observations, we would determine the candidacy for the restorations.
We would start off by cleaning the teeth thoroughly. In the case of crowns, the tooth receiving the restoration has to be prepared by buffing. This is done to remove a thin layer of enamel from the tooth surface to accommodate the crown.
How are crowns fabricated?
A highly precise mold of the teeth will be taken using a hand-held digital scanning device. The device allows the dentist to observe and map the positions of the teeth clearly. The data from the scans will be sent to a dental laboratory to fabricate the restorations. We use dental-grade tooth-colored ceramic material to make crowns. They will be matched exactly with the color, texture, and translucency of your natural teeth to make them appear as natural as possible.
Why should you choose crowns?
Dental crowns can be used for various restorative purposes. Be it weak, worn out, misshapen, cracked, chipped, or badly discolored teeth, crowns can be used to bring them back to their ideal condition.
They offer a high level of customization. Their color, contour, texture, luster, etc. can be modified as required.
They are highly durable, long-lasting, and offer excellent strength. They are widely used to save weak teeth and prevent them from crumbling.
They provide an aesthetic uplift to one's smile as they can be used to treat issues such as spacing, misshapen or chipped teeth, etc.
Why choose Ken Caryl Dentistry?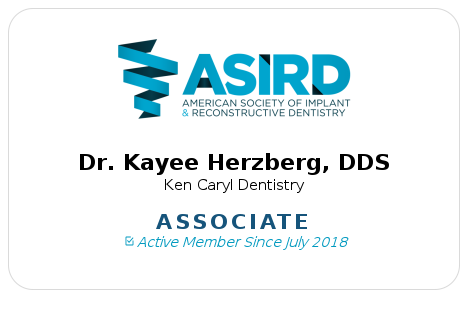 Dr. Herzberg, Littleton Dentist is a member of the American Society of Implant & Reconstructive Dentistry (ASIRD). ASIRD is committed to improving the quality of care for dental implant patients by elevating the standards of surgical and restorative dental education and practice. Not every dentist routinely restores and maintains dental implants.  By using an ASIRD team, rest assured that your dentist routinely restores and maintains dental implants. Learn more about ASIRD