Dental implants are the strongest and most sought-after teeth restoratives. They are used to replace missing teeth, which could've been extracted due to various reasons such as cavities, external trauma, aging, jawbone deterioration, etc. Dr. Herzberg has helped several patients with missing teeth regain their oral functionality and aesthetics with dental implants. Her vast knowledge in the field of dentistry makes her one of the best dentists in Littleton, CO.
Dental implant structure
Implants replace both the tooth root and crown. Hence, they are a combination of two components, namely a ceramic crown and a metal stud. The metal stud is usually made from Titanium and restores the root structure. It has screw-like grooves on its surface so that it can stay firmly attached to the jawbone. The crown structure is made from a tooth-colored ceramic material that is customizable according to the color, contour, and translucency of natural teeth. Both these components are held together by a connecting element called the abutment.
How important is replacing missing teeth?
Restoring an extracted tooth with a suitable prosthetic is highly essential. Here's why:
Biting and chewing food would be troubled. Even if a single tooth is missing, the functionality of the mouth will hinder. You may face toothache, pain in the jaws, TMJ disorder, etc. due to the unequal forces applied to the teeth.
Smiling with a missing front tooth can be extremely embarrassing. You may gradually lose confidence and feel too conscious of your appearance while socializing due to this.
A missing tooth leaves a gap in the jawbone as it will be removed in its entirety. This allows the remaining teeth to drift from their ideal positions and move towards the gap. Over time, it can cause malocclusion and even alter one's facial shape.
Treatment procedure
Getting a dental implant takes a few visits to the dentist's office. During the initial visit, we would screen the teeth thoroughly and take scans of the oral cavity. This gives us an idea of the positioning of the teeth, jawbone health, drifting of teeth, gap available for implant placement, etc. A mold will also be taken for fabricating the dental implant.
The procedure will be performed under the influence of local anesthesia. A small hole will be made in the jawbone using high-precision dental instruments, and the implant stud will be inserted in it carefully. After a suitable healing period of a few weeks, you will be scheduled for crown placement. During this, the crown will be attached to the implant by means of the abutment and dental adhesives. A bite test is conducted to check the fit of the restoration.
Why should you choose dental implants?
Implants restore an entire tooth from root to crown.
Oral functionality will be restored to normal.
Implants can be customized to match the appearance of natural teeth perfectly.
They are durable and long-lasting.
They offer excellent stability and strength.
They prevent the drifting of teeth.
Why choose Ken Caryl Dentistry?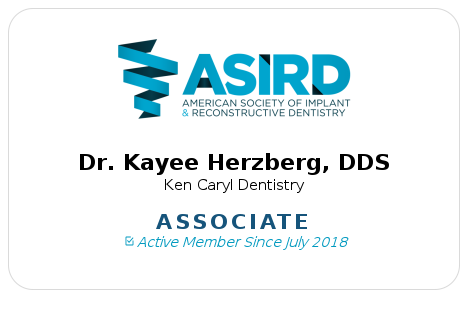 Dr. Herzberg is a member of the American Society of Implant & Reconstructive Dentistry (ASIRD). ASIRD is committed to improving the quality of care for dental implant patients by elevating the standards of surgical and restorative dental education and practice. Not every dentist routinely restores and maintains dental implants.  By using an ASIRD team, rest assured that your dentist routinely restores and maintains dental implants. Learn more about ASIRD
If you would like to learn more about Dental Implant, contact Dr. Herzberg for a consultation.