Dental veneers are thin, flat pieces of porcelain that are custom-fabricated to match the shape and size of specific teeth. They are bonded to the frontal surface of the teeth to treat minor chipping, cracks, discoloration, the excessive spacing between adjacent teeth, wear, etc. The simple procedure and efficiency make them one of the most commonly used dental restorations.
What are the applications of a veneer?
Veneers can be used to treat several oral conditions. Some of them are as follows:
Chipped teeth: Veneers are commonly used to treat the chipping of teeth. Whenever the patient experiences oral trauma, it can cause the tooth to lose a certain edge or surface, leading to a deformed tooth structure. A veneer can be used to bring such teeth to their ideal shape and restore functionality.
Misshapen teeth: The teeth that are naturally out of shape are called misshapen teeth. Such teeth can be made to look visually better with the help of veneers.
Cracked or broken teeth: External trauma to the mouth can entirely crack or fracture a tooth. Such teeth can be supported and held intact using a veneer. Also, the veneer helps cover the gap left by the crack, preventing the entry of microbes into the tooth's pulp.
Discolored teeth: Usually, when a tooth gets badly discolored, it will be brought back to its original color using teeth whitening techniques. But, when the discoloration is severe, whitening solutions do not yield the desired result. In such cases, a veneer will be bonded onto the tooth's surface, thereby giving it an aesthetic makeover.
Worn-out teeth: Teeth naturally wear due to biting and chewing food. However, when they wear excessively due to bruxism, or teeth grinding, they may look aesthetically displeasing and shorter in appearance. Veneers can be used to lengthen the crown and bring them back to their ideal shape and length.
Excessively shaped teeth: Teeth may sometimes emerge too far apart from each other, making the smile look awkward. The excessive space between adjacent teeth can be reduced using veneers.
Why choose veneers?
Veneers are made from dental-grade tooth-colored ceramic material. This makes them very similar in appearance to the natural enamel, keeping your restoration in disguise.
Veneers are very thin and do not add a lot of volume to the tooth. Also, a very thin layer of enamel will be removed from the tooth's surface, thereby retaining a maximum amount of natural tissues.
They are used to treat several oral issues, such as chipping, cracks, misshapen teeth, excessive spacing, wear, discoloration, etc.
They improve both the aesthetics as well as the functionality of the mouth.
They are highly durable, strong, and long-lasting.
Treatment procedure
The dentist would start off with a thorough screening procedure. A visual examination, x-rays, and scans of the mouth will be taken as a reference for fabricating the veneer in a dental laboratory. But, before this, a thin layer of enamel will have to be removed by buffing to make space for the veneer. Once the veneer is obtained from the lab, which usually takes a couple of weeks, the patient will be prepared for bonding the restoration. The teeth are thoroughly cleaned, and the surface of the tooth is etched using an etching solution. The veneer is then bonded to the surface of the tooth using a dental adhesive and hardened using a curing light. Finally, the fit and comfort will be evaluated.
Why Ken Caryl Dentistry?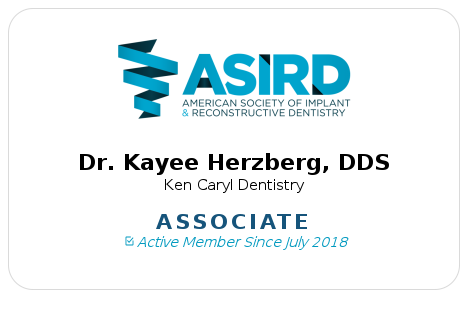 Dr. Herzberg is a member of the American Society of Implant & Reconstructive Dentistry (ASIRD). ASIRD is committed to improving the quality of care for dental implant patients by elevating the standards of surgical and restorative dental education and practice. Not every dentist routinely restores and maintains dental implants.  By using an ASIRD team, rest assured that your dentist routinely restores and maintains dental implants. Learn more about ASIRD
Looking for a Veneer Placement? Schedule a consultation with our dentist in littleton at Ken Caryl Dentistry.