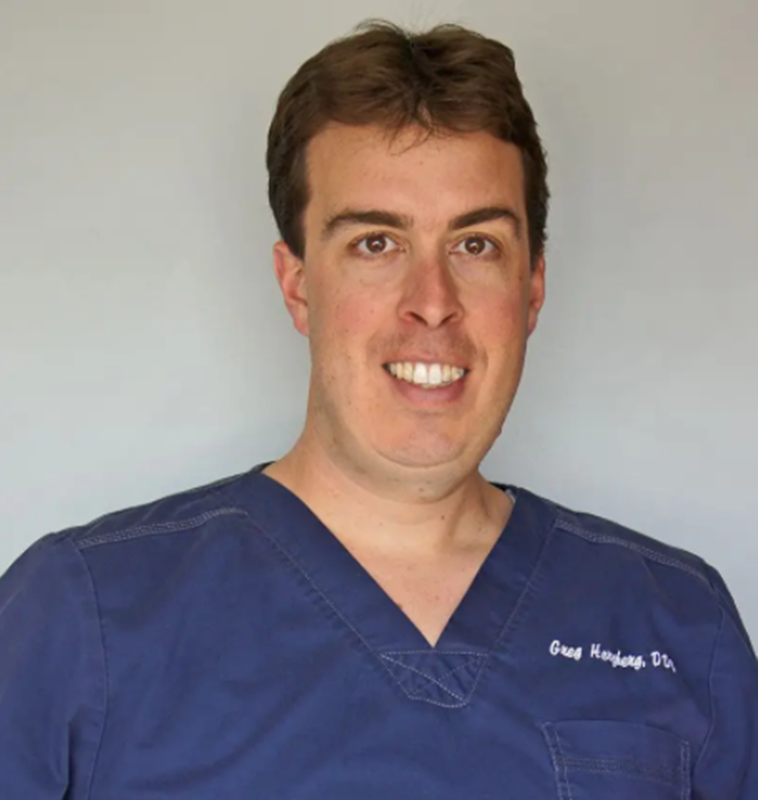 Dr. Greg Herzberg - Littleton Dentist
Greg Herzberg, DDS helps patients achieve a healthy beautiful smile by educating them on oral and overall health. He thoroughly explains conditions and prognosis, then listens to and works with his patients to determine the most effective, minimally invasive treatment plan, to achieve optimal results. You are in charge of choosing your path. He completed his dental education at the University at Buffalo School of Dental Medicine, in upstate New York. Afterward, he entered a challenging general practice residency program, at the University of Colorado, in which he treated medically complex patients in the operating room and the emergency room. Having the opportunity to work alongside physicians and specialists was invaluable in expanding his skills in wisdom tooth removal, dental implant placement, root canal treatment, and planning for ideal esthetic outcomes. Dr. Herzberg has practiced in Boulder and Ken Caryl since 2012. ​Dr. Greg and his wife, Kayee, met in Dental school, and they share the skills and philosophy of helping people. They have volunteered their expertise in Mexico, the Dominican Republic, Appalachia and their local community. They continue to be involved in dental outreach events and enjoy helping those in need. They have two young children and with their big Goldendoodle, Cody, they enjoy the Colorado lifestyle. During winter, Dr. Greg loves climbing Colorado peaks and skiing down them. In the summer, you can find him mountain biking along the front range. He also speaks French fluently and welcomes any opportunity to practice it with his patients.
Dr. Kayee Ho Herzberg- Littleton Dentist
Dr. Kayee Ho Herzberg grew up in New York but has been living in Colorado since 2011. She truly believes in building strong relationships with her patients in order to facilitate honest and informed decisions regarding all aspects of dental care. Most importantly, Dr. Kayee is passionate about providing her patients with the highest level of care.
She graduated Magna Cum Laude with a B.S. in Biology from Rensselaer Polytechnic Institute (RPI). In college, she was focused on becoming a dentist, after being mentored by her orthodontist. She graduated Cum Laude from the University at Buffalo School of Dental Medicine, with a minor in prosthodontics. While in dental school, Kayee took elective courses in esthetic dentistry and participated in charity dental missions, to Puerto Rico and the Appalachian regions of Tennessee. At the University of Buffalo dental school, Kayee met Greg and together they moved to Denver. She furthered her education in Colorado, by completing a General Practice Residency, an additional year of advanced dental training, at Denver Health. Practicing dentistry in a hospital setting proved to be a rewarding experience. Dr. Kayee was on call, helping patients in the emergency room, and treating adults and kids in the clinic. Since then, Kayee has been working in private practice in Littleton and Golden, prior to joining her husband at Ken Caryl Dentistry. She continues to enhance her education by taking advanced courses in esthetics and implant dentistry.
Dr. Kayee Herzberg is a member of the American Society of Implant & Reconstructive Dentistry (ASIRD). ASIRD is committed to improving the quality of care for dental implant patients by elevating the standards of surgical and restorative dental education and practice. Not every dentist routinely restores and maintains dental implants. By using an ASIRD team, rest assured that your dentist routinely restores and maintains dental implants. Learn more about ASIRD. When Dr. Kayee gets a free moment away from busy family life and career; she enjoys running, mountain biking, skiing, hiking, traveling, and cooking gourmet feasts. Dr. Kayee loves working alongside her husband, Dr. Greg Herzberg, at Ken Caryl Dentistry, to provide excellent care to their patients.