Teeth whitening is a cosmetic dental procedure which, as the name suggests, is the process of getting rid of the stains from the surface of the teeth. Discolored teeth can be a huge letdown and lead to frequent embarrassment for individuals. Many say that yellowish teeth make them too conscious of their appearance when they socialize with people. The best, simplest, and quickest way to stay clear of this issue is using our teeth whitening solutions.
Causes of teeth discoloration
Chewing tobacco and its products
Smoking cigarettes
Excessive consumption of alcohol
Excessive consumption of colored foods and beverages such as wine, aerated drinks, etc.
Improper brushing techniques
Common teeth whitening solutions
Conventional teeth whitening: This is the simplest and most affordable type of teeth whitening. A teeth whitening gel that is rich in Hydrogen Peroxide will be used for this purpose. It will be applied on the surface of the teeth, allowed to stay for a few minutes, and rinsed off. Hydrogen Peroxide is known to release oxygen molecules when activated, which helps to remove the coloring particles from the porous structure of the teeth. It may be repeated multiple times to get the desired level of whitening.
Customized-tray teeth whitening: Customized tray teeth whitening involves the use of plastic trays that look quite similar to a mouthguard. The whitening gel has to be used along with the tray so that it can prevent the interference of saliva during the process. Moreover, you can carry out the procedure by yourself in the comfort of your home.
Why choose Ken Caryl Dentistry?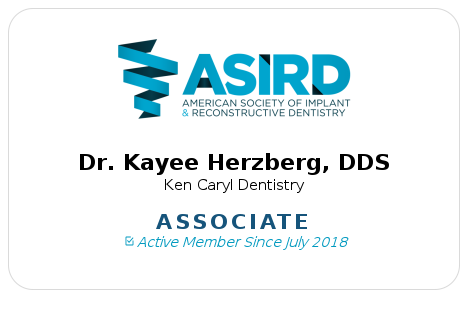 Dr. Herzberg is a member of the American Society of Implant & Reconstructive Dentistry (ASIRD). ASIRD is committed to improving the quality of care for dental implant patients by elevating the standards of surgical and restorative dental education and practice. Not every dentist routinely restores and maintains dental implants.  By using an ASIRD team, rest assured that your dentistroutinely restores and maintains dental implants. Learn more about ASIRD
Looking for a Teeth Whitening Treatment? Schedule a consultation with Ken Caryl Dentistry.