Porcelain is a material used to make crowns and other restorations. They give these restorations a natural-looking appearance as it resembles your tooth enamel. Porcelain has luminous and light-reflecting properties, which create a more genuine restoration compared to other materials.
As porcelain is biocompatible, patients do not have to worry about metal allergies. Also, porcelain does not irritate the gums, unlike other restorations.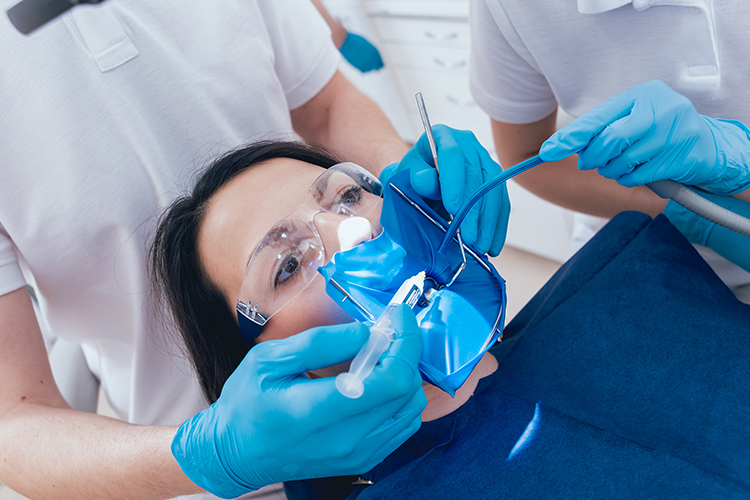 What Restorations Can Be Made From Porcelain?
Porcelain can be used in the fabrication of the following restorations:
Veneers are a paper-thin, custom-made layer of tooth-colored porcelain that is bonded over the front surfaces of your teeth to conceal their defects in terms of size, shape, color, or other outward characteristics.
A crown is a tooth-shaped covering that is secured over an existing tooth. It is fabricated with the natural color of your existing teeth factored in. Dental crowns can save a tooth from further damage, restore your smile, and even help support other restorations.
A bridge is generally used to restore adjacent teeth that are missing. The teeth present on both sides of the missing teeth are shaped, and the bridge is made with two crowns on the sides with the artificial tooth in the center. 
An inlay is a dental restoration that protects the health and structure of a damaged tooth. These restorations can be created out of porcelain or ceramics and are designed to match the tooth aesthetically.
An onlay helps in repairing the chewing surface of the tooth and the cusp of the tooth. They can be created out of porcelain or ceramics and fabricated using either a physical mold or CEREC technology. Onlays safeguard the tooth's structure as well as reinstate the tooth's appearance.
What Are the Benefits of Porcelain Used in Tooth Restorations?
In recent years, many dentists have shifted to porcelain as the material of choice for tooth restorations. Porcelain has many benefits compared to outdated dental amalgam filling materials. 
Porcelain can be colored to precisely match your existing tooth surface. Porcelain crowns inlays and onlays blend effortlessly with the natural look of your smile for completely transparent dental restorations.
Porcelain is an excellent choice for restorative dental work because it is solid and resilient. When you chew your food, the teeth undergo a great deal of pressure. A tooth restoration should be able to withstand these forces over time. The longer your restoration lasts, the more time and money it saves you. Porcelain does this. 
Porcelain is a versatile and handy material that can be used to fabricate various restorations like crowns, bridges, denture teeth, etc. 
Call us at phone number (303) 9735280 or schedule an online appointment. Email us at [email protected] to know more about porcelain restorations.