In dental terms, an extraction means removing single or multiple teeth from the oral cavity. Several techniques can be used to restore a damaged tooth. However, in some instances, the extent of a tooth's damage is beyond any restoration, and therefore it has to be extracted.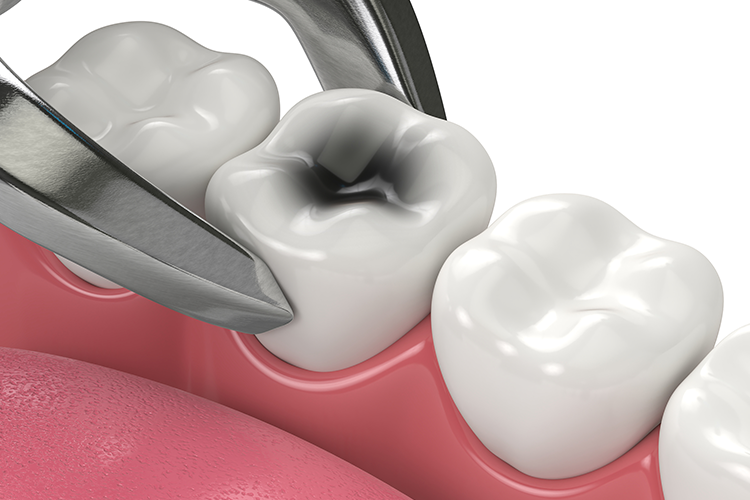 When Do Tooth Extractions Become Necessary?
Although extractions are rarely suggested, several conditions may necessitate the procedure, including:
Severe decay has destroyed most of the tooth's structure.
Root canal therapy has been unsuccessful.
A large crack that has extended to the root of the tooth.
A tooth has significant structural damage.
Advanced gum disease.
There is severe crowding of the teeth.
What Are the Types of Tooth Extractions?
The type of extraction needed will depend on whether your tooth is erupted or impacted.
Simple Extraction 
The dentist will perform a simple extraction when the teeth have fully erupted or are only partially impacted. Before extracting your tooth, you will be given a local anesthetic to numb the tooth and surrounding tissue. The dentist will then make use of special dental instruments to loosen the tooth and gently lift it out from the socket, making sure to remove the tooth in one piece.
Surgical Extraction
Fully impacted teeth will involve a lengthier and more intricate procedure. After administering local anesthesia, the dentist will make an incision in the gum line. Any excess tissue present is removed to gain proper access to the tooth. By employing similar dental tools used in a simple extraction, the dentist will first loosen the tooth from the socket and gently lift it out. Complicated extractions will usually require stitches. While most stitches are dissolvable, others may need to be removed at a later date. 
What Is the Process Involved In a Tooth Extraction?
Before proceeding with the tooth extraction, a thorough exam is conducted to ensure your mouth is stable and ready for the procedure. This exam may include an X-ray. 
Then, local anesthesia will be administered. Once your mouth has been numbed, the oral surgeon will cut away some gum tissues surrounding the impacted tooth before gently pulling out the tooth from your jaw. The wound will then be cleaned, after which the dentist will place gauze to stop the bleeding and stitch the incision's opening. 
After the procedure, you will be required to avoid smoking, drinking alcohol, or eating solid food for at least a few days. The dentist will prescribe medications for pain relief and antibiotics to help in the healing process. If you experience any persistent bleeding, you should contact your dentist immediately. 
Call Ken Caryl Dentistry at phone number (303) 9735280 or schedule an online appointment. Email us at: Info@kencaryldentistry.com to know more about tooth extractions.