Treatment Entertainment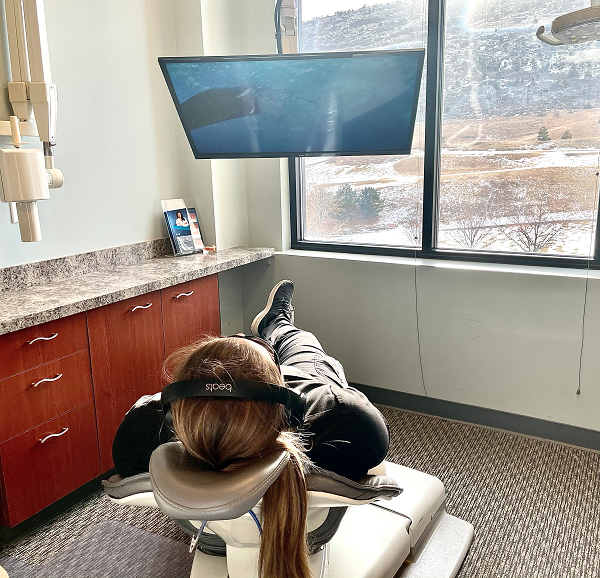 Dental visits are often considered stressful. But at Ken Caryl Dentistry, getting your dental procedures done can be turned entertaining now. Believe it or not, each of our patients can watch a movie or catch up with their favorite shows on Netflix with noise-canceling headphones to enjoy while getting procedures done. 
A dental visit won't be stressful anymore. We pride ourselves on giving you comfortable, gentle care, and our relaxing Netflix plays a great role in the equation. 
Cone Beam Computed Tomography (CBCT) and Panoramic Radiography
CBCT  is a special type of x-ray equipment that allows Dr. Herzberg to examine a three-dimensional view of your teeth, gums, facial bones, and nerves.
When you have a CBCT 3D scan, an x-ray beam in the shape of a cone circles around your head. A large number of images or views are produced from a single rotation. These x-rays provide clear and detailed images of facial bones and are often used to evaluate bone density in the jaw, the location of teeth, proximity of teeth and nerves, and the location of the maxillary sinuses.  Cone beam CT has the added advantage of requiring lower radiation exposure in order to create clear images when compared to conventional CT.  Our CBCT can also expose conventional two-dimensional digital panoramic radiographs, that are used for routine oral exams every five years.
Littleton Dentist, Dr. Herzberg uses the CBCT 3D Scanner to prepare the following procedures:
Wisdom Teeth Removal- determine the proximity of the inferior alveolar nerve in relation to the lower wisdom teeth
Dental Implant Placement- determine the optimal position for a dental implant by evaluating and measuring the jaw bone density and anatomy, location of nerves and sinuses, and the location of adjacent teeth.
Root Canal Therapy-  determine the location of nerve canals in an infected tooth
Digital Intraoral Optical Scanner
Do you hate having impressions taken?  With our new technology, Ken Caryl Dentistry has removed the majority of traditional impression taking, by using fast, accurate, and easy digital impression scanner.   The digital scanner records precisely, the 3-D geometry of your teeth.  This digital scan is then used to design a customized dental crown for your tooth.   Our Digital Intraoral Scanner also allows for improved treatment planning and patient communication.
Dental Soft Tissue Laser (Diode Laser)
Soft tissue dental lasers at Ken Caryl Dentistry allow us to perform a wide range of dental treatments on the soft tissues and gums.  Soft tissue lasers can help reduce bleeding, post-operative pain, swelling, and the need for pain medication when treating the gums and oral soft tissues. In addition, dental lasers decrease the risk for infection following the treatment, and stitches are not needed for treatments performed using a soft tissue dental laser.
Soft tissue lasers work by using the energy from a laser beam to kill disease-causing bacteria while removing infected gum tissue.  Dentist in Littleton, Dr. Herzberg can also use a soft-tissue diode laser to re-contour an unappealing gumline, remove a lip or tongue tie, and treat cold sores and canker sores. For more information on soft tissue dental lasers and laser dentistry, contact us at 303-973-5280.
Intra-Oral Camera 
Littleton Dentist, Dr. Herzberg utilizes intraoral camera technology to help enhance the understanding of your diagnosis and helps educate his patients on their oral conditions.  The intraoral camera is a small wand that takes digital pictures in the oral cavity for immediate viewing.
The intraoral camera enables Dr. Herzberg to view clear, precise images of your mouth, teeth and gums. This allows the patient to see what the doctor sees, providing a better understanding of the patient's oral health conditions.  A picture is worth a thousand words. Schedule today to have a better understanding of your oral health.