April is Oral Cancer Awareness Month
Posted by Ken Caryl Dentistry on Apr 25 2018, 12:58 AM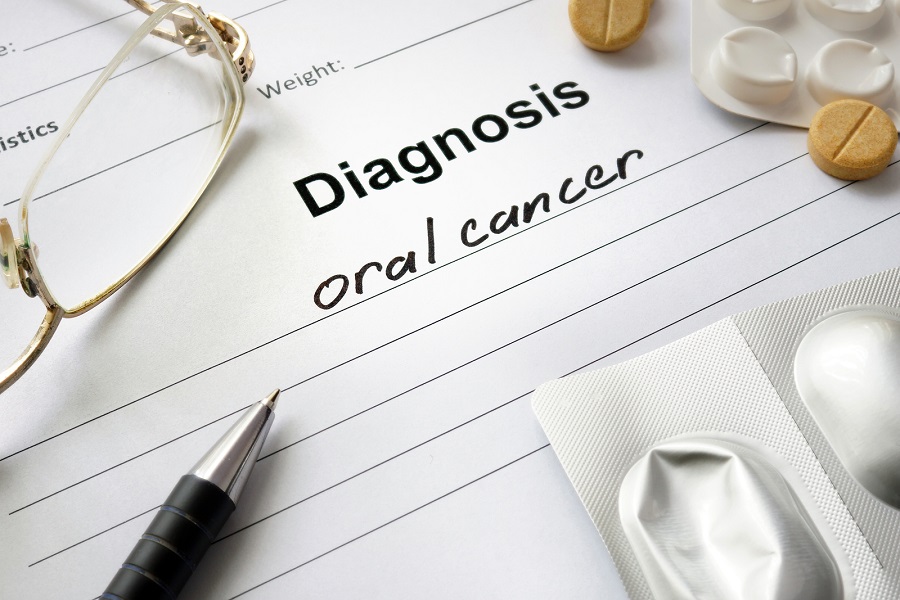 Oral cancer is a very serious condition that typically does not present any symptoms in its early stages. For this reason, oral cancer screenings can help your dentist detect oral cancer early on when treatment is most effective.
Who Is at Risk for Oral Cancer?
Anyone can develop oral cancer, but certain individuals have a higher risk than others. Smokers and heavy drinkers are most at risk, and tobacco use accounts for about 75 percent of all cases of oral cancer. Those who chew tobacco are also at high risk for oral cancer. HPV is also linked to the development of several forms of cancer, including oral cancer. While anyone can develop oral cancer, those who fall into higher-risk groups should undergo more frequent oral cancer screenings.
Heavy drinking and smoking can lead to dry mouth, which is a significant risk factor for developing oral cancer. Insufficient saliva production makes it difficult for your mouth to naturally wash away food debris, bacteria, and other harmful oral debris that can lead to oral cancer. A dry mouth also causes excessive plaque buildup, which can collect on teeth and along the gum line and lead to the development of tooth decay and gum disease. Both of these conditions can increase one's risk of developing oral cancer.
Individuals who smoke or chew tobacco products often tend to eat less healthy foods that are high in sugar and starch compared to those who don't engage in these habits. Not only does this contribute to an increased risk of developing cavities, but it also increases the risk of periodontal disease, which can lead to tooth loss and increased wear on the teeth. 
Fortunately, the prognosis for oral cancer is generally good because it is usually discovered early in its progression. If caught and treated in the earliest stages, squamous cell carcinoma can be treated successfully. However, if left untreated, it can spread to other parts of the body and become life-threatening.
How Is Oral Cancer Diagnosed?
The dentist will perform a visual examination to check for lesions in the mouth. If the dentist notices any suspicious areas, a small brush biopsy will be performed to determine if oral cancer is present. If the results come back positive, the patient will need to see a specialist for oral surgery to remove the cancerous growth.
How to Treat Oral Cancer?
The treatment for oral cancer will depend on how far along the cancer is. If the cancerous cells are still localized in one area of the mouth, it may be possible to remove them with a laser. However, if the cancer has spread further, surgery will be needed to remove the cancerous tissue. Chemotherapy may also be an option if cancer has spread to other areas of the body. Both of these treatments will have to be done in a medical setting under the supervision of an oncologist.
Ken Caryl Dentistry offers the best dental services to maintain your healthy smile. For more details, call us at (303) 973-5280 or visit The Courtyards at Deer Creek 7631 Shaffer Pkwy Suite B, Littleton, CO 80127.